Every trip or vacation with children requires a special organization.
Traveling by bike with your family allows you to awaken your children but requires that you think about a few factors beforehand.
Paulette gives you some keys to make your family vacation a success!
Organization
A family trip requires more organization. Traveling by bike with children requires preparation and certain indispensable accessories.
With young children, it is perfectly possible to travel by bike. For more than half a day, you should use a children's trailer. They are more comfortable than a baby seat and can accommodate 2 children. Remember to bring a headrest so that the child is well supported for the nap. Easily adaptable to mountain bikes and electric bikes, the trailers allow a fun trip on a long distance as well as for an excursion.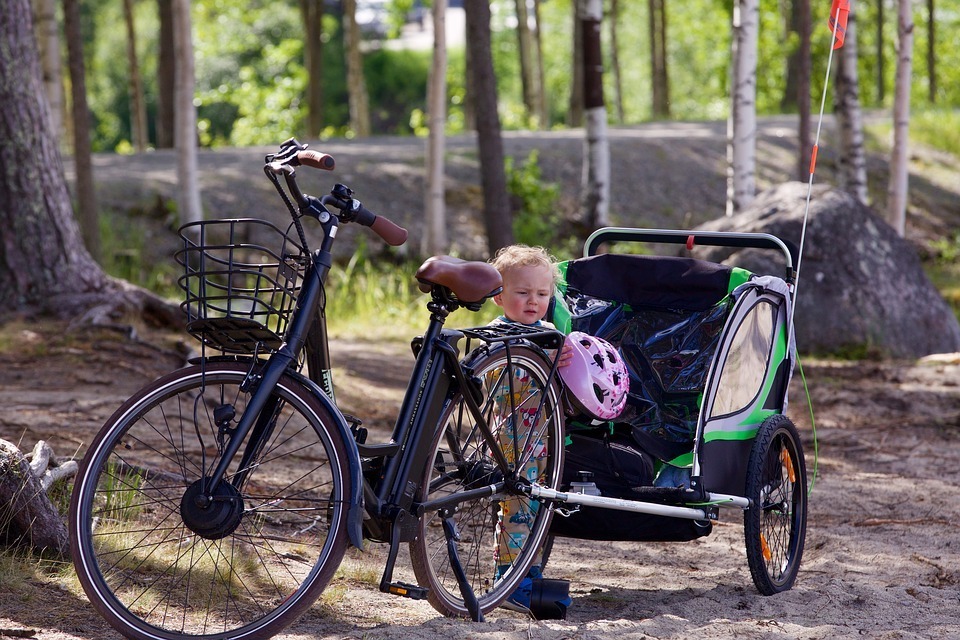 From 6 years old, the followers can be a good alternative. The accessory attaches to the seat of the adult bike and allows the child to pedal like a grown-up!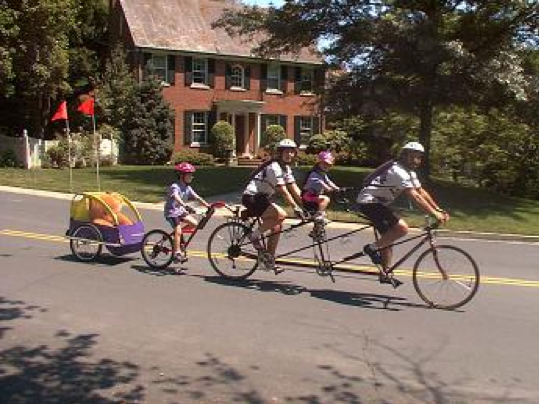 If you are going on an important stage, we recommend the use of trailers or children's bikes. When your child is independent, it is possible to leave with several bikes. However, make sure that you ride short stages with bikes that are in good condition and have good brakes, lights and catadriopters.

Helmets are currently mandatory for children up to 12 years old. It is an essential piece of equipment whether the child is on a bike or in a trailer. Gloves and a yellow vest are also recommended.
Some additional accessories
You may want to consider using bungee cords and waterproof bags to protect down and other items on the rack.

Also, to travel comfortably, choose rear panniers that will fit on your luggage rack or a luggage trailer to carry the whole family's belongings.

Think about rain gear if you are going to be away for a few days and do not forget a first aid kit and sun cream.

If you do not know your destination, think about phone mounts on the handlebars to orient yourself and reduce the waiting time for the children.
Advice
Equipment is the first thing to consider when planning a bike ride. However, this type of vacation also requires a certain amount of organization and planning to deal with the unexpected. Paulette gives you some advice to anticipate your program:
Cycling is a fun and accessible means of transportation that allows you to travel at your own pace.

With a bike, you can take breaks whenever you want and park easily. It becomes easy to ride with children as long as you explain the safety rules and traffic regulations to them beforehand.

To delight the whole family, take easy routes and make frequent breaks. The banks of the Canal du Midi are a good alternative to familiarize children with cycling.

Start with short trips (15 to 25 kilometers a day).

Keep the discovery aspect, they will need entertainment and occupation to motivate themselves and forget the physical effort. For example, offer them games related to the tourist places you pass by; organize challenges to reach the next step easily...

Give preference to renting accommodation (gites, mobile homes, bungalows) over tents.

Before leaving for several days, test your stamina and the equipment during weekend walks.
Stay tuned for new adventures with Paulette!
Check us out and share your memories on Facebook and Instagram with the #paulettebike. Don't forget to tag us: @paulettebike!